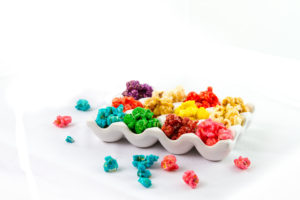 This is no fairytale story, just an everyday American dream come to life for a girl from Alexandria, Louisiana; to be an entrepreneur doing something that I love. 

Little did I know that my childhood encounters with popcorn and candy would be the catalyst for opening a business!  Sleepovers with my aunts always ended in movies and big bowls of  freshly popped and buttered popcorn. Cooking in the kitchen with my cousins is where I perfected my caramel popcorn balls and pralines. Being wide-eyed and trying to decide how many candies I can get with my quarter at Mrs. Collin's house in my neighborhood on Monroe Street.   Walking on Augusta Street to Mrs. Lee's house for the biggest and best tea cakes in town and Mrs. Harris' house for the sweetest frozen cups on the block.  We affectionately called these women candy ladies, tea cup ladies, and frozen cup ladies;  entrepreneurs in their own right!   Memories of time with my family and these neighborhood business women brought me to this place I call LolleePop. 

LolleePop's mission is to offer gourmet popcorn flavors that will awaken your taste buds while providing a nostalgic experience with a modern twist on a classic treat.   Flavor, quality, engaging customer service  and partners in the communities we serve are the cornerstone values of LolleePop Gourmet Popcorn and Treats. Thank you for supporting LolleePop and I hope your experience is as sweet as the last smile of sunset (Edwin Arnold).
  
Love & Popcorn,
The Popcorn Lady, Latonia